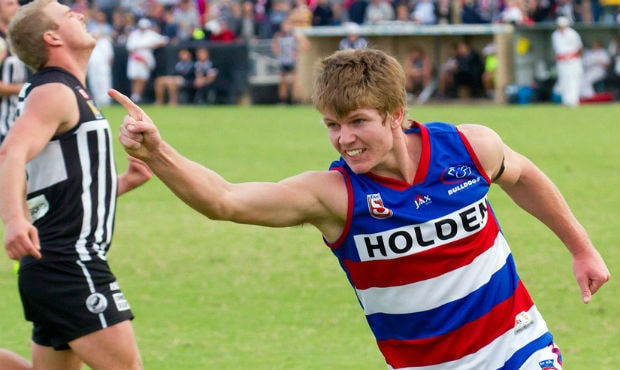 When Gold Coast called out Josh Glenn with selection seven in last year's rookie draft, to most he was just another name and one of many mature age players drafted to the AFL. But the path Glenn took to get to there is very different. In his junior season, he fell out with the Central Districts under-18s coach and moved to play local football for division four amateur club Elizabeth. Upon excelling, his teammates suggested he give it another crack so he did a pre-season at Centrals in 2013 and was noticed. He was promptly selected in the SANFL league side, Glenn impressed everyone off half back with his hardness, smooth skills and defensive discipline. He was the best 19 year-old in the SANFL and won the league's Star Search award for the year.
But that is when everything started changing for Glenn. He had gone from your every day footballer who had a kick on the weekend with some mates to a name on many people's lips. He was labelled a sure fire bet to be drafted. When, due to the interest of many AFL clubs, he received an invitation to the draft combine, Glenn declined. He didn't feel he was ready to make the next step up having come from division four amateur football not 12 months before. It was too much of a jump.
Although there was plenty of speculation about the reasons, Glenn maintains that he just was not ready and wanted another season in the SANFL to ease the transition. In 2012, Centrals had another smooth kicking half back with a hard edge called Paul Marschall. Marschall was arguably an even better prospect than Glenn was and had also won the Star Search award for the league. Coincidentally, he wore the same number as Glenn. Marschall too chose not to nominate for the draft, instead wishing to focus on his family's landscaping business. He didn't return to Centrals in 2013. Given the similarities – similar ages, same club, same number, same position and role in the side (Glenn was essentially the replacement for Marschall in 2013) people began to speculate that there was a curse at Centrals and that Glenn was its newest victim.
The speculation and interest in Glenn and his similarities with Marschall led him to change numbers in season 2014. It motivated him to push forward and prove himself, and he proceeded to have a career best season in the SANFL, playing more midfield minutes. This culminated in another combine invite which he promptly accepted, feeling ready to make the transition. Surprisingly, Glenn was overlooked in the National Draft before being selected by Gold Coast in the Rookie Draft.
Since being drafted, Glenn has impressed on the track and in the pre-season. Starting the year in the NEAFL, Glenn has averaged 25 touches and five marks a game, culminating in his AFL selection this weekend. As a player, Glenn is a hard edged half back/balanced midfielder with solid inside and outside games. He tackles hard and runs even harder, with his endurance being a particular highlight. His kick is penetrating and effective with his decision making and vision exciting. The only knock on Glenn is his speed, he's just not that quick.
We don't know whether Glenn's decision to decline a nomination led to him sliding on draft day; there would certainly have been a case for clubs to fear homesickness and immaturity, but since draft day Glenn has silenced the doubters and earned his debut.